God's Own Fool
Political punditry can easily lead to fits of arrogance and self-righteousness. I find it important to regularly remind myself that there are more important things in life than how and by whom our government is run. The most important Person in my life is Jesus Christ. Over 2,000 years ago he came to earth and lived as a man. He was crucified, yet three days later rose again. Today is the day each year we remember this most important event.
Michael Card has two album compilations that are among my favorite of any type of music. The first set called The Ancient Faith contain three albums that take us through the Old Testament Scriptures as Jesus Christ is revealed in them. The second compilation called The Life also contains three albums showing us Jesus in the New Testament Scriptures.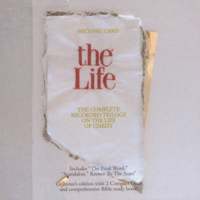 One of the songs in this last set is one of my favorites. Whenever I'm feeling like it's all about me, it helps to remind me it really is all about Him. As Jesus Christ's strengths are shown through my weaknesses, so is His Wisdom shown through my foolishness. This is possible because He because weak and foolish so that I might become wise and strong in Him. I leave you with the words of this song to contemplate, and ask you to join me and come be a fool as well.
GOD'S OWN FOOL
Seems I've imagined Him all of my life
As the wisest of all of mankind
But if God's Holy wisdom is foolish to man
He must have seemed out of His mind
Even His family said He was mad
And the priest said a demon's to blame
But, God in the form of this angry young man
Could not have seemed perfectly sane
We in our foolishness thought we were wise
He played the fool and He opened our eyes
We in our weakness believed we were strong
He became helpless to show we were wrong
So we follow God's own Fool
For only the foolish can tell
Believe the unbelievable
Come be a fool as well
So come lose your life for a carpenter's son
For a man never died for a dream
And You'll have the faith His first followers had
And you'll feel the weight of the beam
So surrender the hunger to save us now
And The courage to say I believe
For the power of paradox opens your eyes
And blinds those who say they can see
We in our foolishness thought we were wise
He played the fool and He opened our eyes
We in our weakness believed we were strong
He became helpless to show we were wrong
So we follow God's own Fool
For only the foolish can tell
Believe the unbelievable
Come be a fool as well